The 2019 NFL Scouting Combine is upon us and it is time for my first Pittsburgh Steelers Mock Draft of the season! There are so many unknown factors to consider from now until the NFL Draft. Due to these factors, the mock drafts will change and adjust as the offseason unravels. These factors are Steelers in-house cuts, free agency acquisitions, and trades. Trades? Well, since mentioning trades, I have one garnished up for this mock draft. Antonio Brown is headed to San Francisco in exchange for draft selections, details below:
49ers Receive: Antonio Brown
Steelers Receive: Round 2 (36), Round 4 (104)
** The value of the 36th and 104th pick together is equivalent to a first round value. 
Round 1, Pick 20: Byron Murphy, CB, Washington [Player Profile]

Murphy will be criticized for his frame coming under the prototypical weight, but Denzel Ward measured in at 183lbs and is doing great things in Cleveland. Murphy has some dog in him, as he's very physical and aggressive. Willingness to attack the catch point and disrupt completions, all while being a ball hawk make Murphy a very attractive candidate for Pittsburgh, who should be calling it quits on the Artie Burns experiment as soon as possible. Murphy would be a day one starter in Pittsburgh opposite Joe Haden.

(PFF)
Round 2 Pick 36: Devin Bush, LB, Michigan [Player Profile]
Not my favorite prospect in the Draft, but I think the Steelers will love his speed, range and athleticism while highly valuing his leadership and character. Bush is a bit undersized at 5'10", but has the speed to run sideline to sideline. He will have to improve on shedding and slipping blocks, but his high effort and motor make him a high ceiling prospect.
Round 2, Pick 52: JJ Arcega-Whiteside, WR, Stanford [Player Profile]
The wide receiver chosen in this draft will forever be known as Antonio Brown's replacement. Whiteside has some size at 6'3″, 225lbs and is a former basketball and track star. Ben Roethlisberger has been asking for a big receiver for a while now and Whiteside has the wide catch radius wanted. The NFL Combine will be huge for Whiteside, as if he tests rather well, he can be a top-50 or so pick.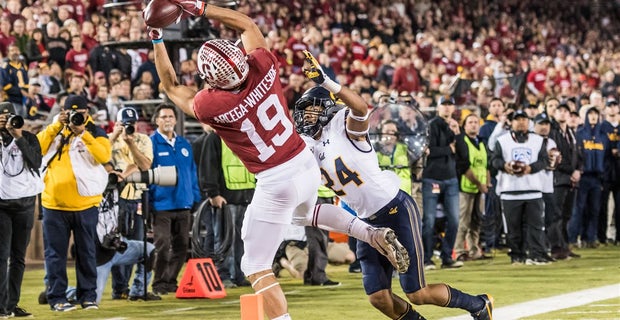 (247Sports)
Round 3, Pick 83: D'Andre Walker, EDGE, Georgia
The Steelers need to address the outside linebacker position because of Bud Dupree and the depth at the position. Dupree is expected to play on the 5th year option, undeserving in my opinion, but the future at the position shouldn't lie in him. Walker is a versatile outside linebacker who has experience rushing the passer in 3-4 and 4-3 schemes, dropping into coverage covering tight ends and slot wideouts, and actually playing inside linebacker.
Round 4, Pick 104: Terrill Hanks, LB, New Mexico State [Player Profile]
Another linebacker? Yes. In this instance, Bush is the starting mack linebacker alongside Vince Williams. Williams struggles in coverage, enter Hanks, who will be a subpackage linebacker and special teams demon. The ironic thing is, Hanks is a former safety, so he can also be inserted into a joker-dimebacker role. Hanks' speed and athleticism in coverage will be on full display and help cover tight ends and wide areas in zone coverage. This may be an unpopular opinion, but this team is in desperate need of an infusion of athleticism and linebackers.
Round 4, Pick 122: Daylon Mack, DL, Texas A&M
Daniel McCullers and LT Walton never worked out, and Mack is here to save face. Tyson Alualu just re-signed to stay in Pittsburgh, but Mack offers youth and depth to the position. Especially in short yardage and goal line situations, Mack will be a huge help as a run stuffer. His skillset doesn't end there, as he is a decent pass rusher who is only going to improve.

(BroncosWire)
Round 6, Pick 175: Deion Calhoun, OG, Mississippi State
With Ramon Foster projected to depart from the Steel City, a replacement is needed for BJ Finney, who moves in to a starting role. Calhoun has played his entire collegiate career at right guard, but will need to learn left guard and center as well. The new swing interior offensive lineman in Pittsburgh. Calhoun has only allowed three sacks in over 1200 career snaps and has been a force in the run game, ranking 3rd in the nation in run blocking (PFF).
Round 6, Pick 192: Dax Raymond, TE, Utah State
This is a selection aiding my prediction that Jesse James does not choose to re-sign with Pittsburgh. Raymond hasn't had much collegiate production, but has the potential to be a do-it-all tight end given a few seasons. Can be a possession tight end at the catch point and a bruiser after the catch. A haul as a run blocker (actually washed Terrill Hanks completely out of a play). Raymond is a prototypical TE2 with a ceiling to be a starter at some point.

(Salt Lake Tribune)
Round 7, Pick 215: Will Harris, S, Boston College
Morgan Burnett is surely on his way out of Pittsburgh and a versatile, interchangeable safety is exactly what the Steelers need. Depth at the position is lacking and Harris can back up with positions while being an absolute stud on special teams. A true test for Teryl Austin's first year as a position coach in Pittsburgh.
---
Conclusion: I chose not to select a running back. I have confidence in James Conner and Jaylen Samuels. The Steelers definitely need to find a third string running back as an undrafted free agent. I could see the Steelers drafting two wide receivers instead of two linebackers. I could also see the Steelers drafting a punter in the late rounds, or acquiring one via undrafted free agent.
If you have any questions or concerns, lay them down in the comments!
image: macon telegraph