It's hard to believe it but week 17 is here. This is your ultimate quick reference guide to the Cleveland Browns and Pittsburgh Steelers. As always, the Three-Point Stance is sponsored by 'Nail the Number.'
What: Cleveland Browns (0-15) at Pittsburgh Steelers (12-3)
Where: Heinz Field Pittsburgh, PA
When: 1pm Eastern on Sunday, December 31st, 2017
Weather: 16 degrees and partly cloudy, winds to 10mph
Line: Browns +10.5
Last Week: Cleveland lost 20-3 in Chicago while the Steelers won their Christmas Day game against Houston 34-6.
TV: CBS Spero Dedes and Adam Archuleta
TV Coverage in Your Area: Courtesy 506sports.com. (Steelers game in blue)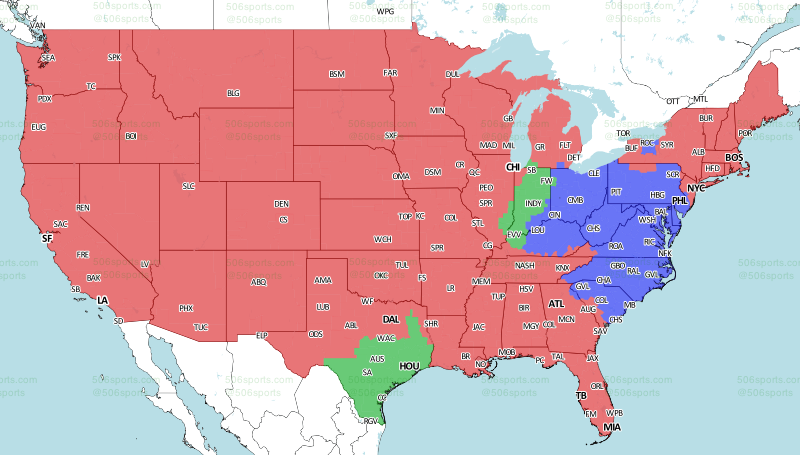 Radio: Steelers Nation Radio/WDVE Bill Hillgrove, Tunch Ilkin and Craig Wolfley on the sidelines.
Head Official: Jerome Boger
Key Injuries: CLE: OUT: FB Danny Vitale (Groin)  QUEST: DB Briean Boddy-Calhoun (Knee), RB Matthew Dayes (Knee), DB Derron Smith (Hip), DB Jamar Taylor (Foot)  PIT: OUT: Antonio Brown (calf) QUEST: Maurkice Pouncey (hip)  Game-Time Decisions will be updated when available.
2017 NFL Ranks:
Total Offense: PIT 3rd  CLE 27th Passing Offense: PIT 2nd CLE 26th Rushing Offense: PIT 20th CLE 19th
Total Defense: PIT 4th , CLE 12th Passing Defense: PIT 5th CLE 19th Rushing Defense: PIT 10th CLE 7th
AFC North Rankings: Pittsburgh 12-3*, Baltimore 9-6, Cincinnati 6-9, Cleveland 0-15 *=Division Champion
What You Need to Know: Despite all of the mystery, Ben Roethlisberger and Le'Veon Bell will not play. They were not involved in much of practice this week at all and I would also go so far as to suggest Maurkice Pouncey will not play either… The Steelers are going for a season sweep of AFC North opponents… Pittsburgh is 9-1 when they score first and they are 11-1 when they score 20 or more points… Landry Jones is 2-2 as a starter… Last week was Ben Roethlisberger's 200th career game for the Steelers which ties him with Mel Blount for the fourth most in team history… A loss would make Cleveland just the second team to go 0-16 NFL history.
What's at Stake: The Browns look to avoid one of the most dubious marks in pro sports. A win over the hated Steelers would keep them from 0-16… For the Steelers, a win and a New England loss would give them the one seed in the AFC Playoffs.
All-Time Series: Steelers lead 71-58 and lead all-time in Pittsburgh 43-21
Series Highs: PASSING: Steelers Ben Roethlisberger 417yards Oct. 18th, 2009, Browns Bernie Kosar 414yards Nov. 23rd, 1986..  RUSHING: Steelers Willie Parker 223yards Dec. 7th, 2006, Browns Jim Brown 175yards Oct. 5th,1963…  RECEIVING: Steelers Buddy Dial 235yards Oct. 22nd, 1961, Browns Josh Gordon 237yards Nov. 24th, 2013
Last Meeting: Sep. 10th, 2017 in Cleveland. Steelers 21 Browns 18
Three Things We Need to See for a Steelers' Victory:
Don't Be Fooled By the Record. If you're 0-15, you're a bad football team. There's no other way to cut it. But the Steelers need to be careful. Cleveland will give it their all for two reasons. They want to avoid the 0-16 record but they also want avoid it by beating their most-hated rivals. If the Steelers go into this game thinking it will be a cakewalk then might I suggest last season's finale where the Steelers needed overtime to be the Browns? Cleveland has lots of warts, but they have some talent too and they can't be overlooked.
Improve the Run Defense. Cleveland will run the football knowing two things; they want to protect Deshone Kizer as much as possible and they know the Steelers have struggled stopping the run since Ryan Shazier's injury. I have no doubt that Keith Butler has spent a lot of time talking about 'gap integrity' and preaching to his linebackers about getting off blocks. Despite the fact that Cleveland doesn't run the ball well, Pittsburgh has to get some confidence stopping it if they expect to advance in the postseason.
Get the Ball Out. The Browns have the 7th best run defense in the NFL. With no Le'Veon Bell I do not expect the Steelers to run the ball well. That means a lot will fall on Landry Jones. Todd Haley's offense is designed to get the ball out quickly and that's what Jones has to do. Use Martavis Bryant, JuJu Smith-Schuster, Eli Rogers and company by getting the football to them in good time. As much as I'd like to see Josh Dobbs get some reps that isn't at the cost of Jones going out because he's getting sacked.
Predictions: Make no mistake, the Steelers have better talent across the board but the only team with any real motivation here is Cleveland. Unless the Steelers look up and see the Patriots getting drilled by the Jets (highly unexpected), I don't expect a lot from the Black and Gold. Their number one goal will be to stay healthy and get off the frozen Heinz Field turf. Give me the Browns 23 Steelers 17.