The Century Conference produced a WPIAL semi-finalist last season in Washington, but the other four teams to reach the playoffs all lost in the first round. This season, the Little Prexies are the clear favorite once again but the race is wide open behind them. With the possible exception of Brownsville (who enters the season on an 11-game losing streak and has a new coach), the other six teams in the conference could finish in any order. The key to a postseason berth is winning conference games. Last season, 3-7 Beth-Center made the playoffs over two 5-5 teams (Bentworth and Charleroi) because Beth-Center was 3-4 in conference play while the others were just 2-5. With the exception of Washington, no Century Conference team averaged over 23 points per game last season, which made for a number of close games.
If you're new to following WPIAL football this season, I wrote a primer on how it works. You can follow along with all of my WPIAL Conference previews here. Teams are listed in my projected order of finish.
Washington
After an undefeated regular season, the Little Prexies reached the semifinals for the second time in the last three seasons. Washington fell to Neshannock 27-7, which was the first game all season they were held under 28 points. Sophomore Zack Swartz figures to take over at quarterback this season after seeing mop up duty last year. Third and fourth-leading rushers Nick Welsh (414 yards, 5 TDs) and Ronnie Paith (297 yards, 6 TDs) both averaged over 6 yards per carry and return for their senior seasons. Washington runs a triple-option offense and typically features a number of quality rushing threats. Second-leading receiver Isaiah Schoomaker (395 yards, 6 TDs) also returns for his senior season and has committed to Miami Ohio. Two-way lineman Myckel Brown has an offer from Kent State. The Prexies are loaded once again and after a year where they boasted the second-best offense and defense in 2A, are certainly a contender to reach the WPIAL Championship.
Burgettstown
If you've followed my WPIAL coverage for a while, you'll know my history with Burgettstown. Two years ago when every other outlet was picking them to finish last in the division I correctly predicted the Blue Devils would snap their 5-year playoff drought. They returned to the playoffs last season and lost to CWNC in the first round. Senior Nic Spear will take the helm in the backfield after rushing for 270 yards and 1 TD last year. Burgettstown will need to find a new QB, but he will have the top three receivers from last season to throw to in seniors Ryan Lounder (551 yards, 10 TDs) and Jarred John (247 yards, 1 TD) along with junior Reed Reitter (335 yards, 3 TDs).
Chartiers-Houston
The Bucs finished second in the conference thanks to a defense that ranked in the Top 5 in 2A. Unfortunately their offense averaged fewer than 19 points per game and the Bucs won a lot of low-scoring defensive struggles. Their lack of offense bit them in the playoffs where they were bounced in the first round by Laurel 10-6. Chartiers-Houston has made the playoffs in 12 of the last 15 seasons but has not won a postseason game since 2000. The Bucs graduated 12 seniors from last year's team including their quarterback, leading rushers, and leading receivers. Senior Matt Whitfield is the top returning rusher.
Charleroi
Much like Bentworth, Charleroi finished the season with a 5-5 record but missed the playoffs because only 2 of those wins came against conference competition. Close losses to Bentworth and Chartiers-Houston kept the Cougars from making their first playoff appearance since 2004. Geno Pellegrini threw for 1013 yards and 9 TDs last year as a sophomore. Pellegrini also rushed for 362 yards and 6 TDs. Fellow junior Dakota Romantino was the team's leading receiver with 466 yards and 5 TDs. Brayden Milhalcin led the team in rushing with 547 yards and 5 TDs as a freshman. The playoff race in the Century Conference figures to be wide open and Charleroi has a chance to break their postseason drought.
Frazier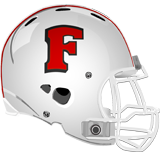 After going 8 years in the mid-2000s without a playoff appearance, the Commodores have earned 6 consecutive postseason berths. The 2015 season when they reached the Single-A semifinals was the only time they made it out of the first round after they lost to Brentwood in the opening round last year. Leading receiver John Celaschi (647 yards, 6 TDs) returns for his senior season. Senior Brandon Lovis averaged over 12 yards per reception last season. Junior George Smalich was the team's third-leading rusher last year (208 yards, 4 TDs) but figures to take over as the primary back.
Bentworth
The Bearcats went 5-5 overall last season, but just 2-5 in conference play and missed the playoffs to 3-win Beth-Center. Bentworth has been to the playoffs just twice in the last 18 years. Senior Ben Peternel was one of just two players in the WPIAL to top 1000 receiving yards and finished with 1062 yards and 10 TDs. Sophomore Shawn Dziak will step in under center. In addition to Peternel, senior receivers Riordan Tush and Marquez Bentley return after averaging over 12 yards per reception. Junior Spencer Fereza led the team in rushing with 307 yards and 1 TD last season. If Dziak can limit turnovers, he has the weapons on offense to keep Bentworth competitive and make a run at a playoff spot.
Beth-Center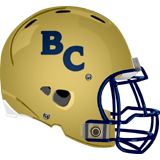 The Bulldogs reached the playoffs for the 14th consecutive season but lost in the first round for the 6th straight year. They rebounded from a 1-5 start to the season to win 2 of their last 3 games. Those 3 wins were all in-conference and were enough for Beth-Center to finish fifth. Junior Dominic Fundy rushed for 1106 yards and 9 TDs last season and is the top returning skill position player. Fundy may take over the role of starting quarterback as well, where he would be a dual-threat option. The Bulldogs were a young team last year and return a number of starters on both sides of the ball. Beth-Center needs to improve on offense where their 15 points per game was the second-worst in the conference.
Brownsville
The Falcons went 0-10 last season and enter 2017 with an 11-game losing streak. They have not made the postseason in 16 years and finished last season with the worst offensein the conference and second-worst defense in 2A. Everyone they faced scored at least 30 points on the Falcons last season with three teams scoring in the 50s. Leading receiver 6'3″ Shandon Marshall (278 yards, 5 TDs) returns for his senior season. Senior Mason Kelly led the team in rushing with 404 yards and was second in receiving with 149 yards and scored 6 times.