The Big Seven Conference featured a tight playoff race at both the top and bottom last season. With five of the nine teams guaranteed a playoff spot, nearly everyone except Cornell was in contention all season. At the top, Rochester's last-minute victory over Northgate propelled the Rams to the Conference Title. Both Rochester and Northgate reached the WPIAL semifinals where they fell to Jeannette and Clairton respectively. At the bottom, Shenango beat Union in a casket match in Week 9 to earn a trip to the postseason. Additionally, OLSH reached the postseason for the first time in school history. Cornell suffered through a winless season after re-starting their football program, and will look to take the next step forward this season.
If you're new to following WPIAL football this season, I wrote a primer on how it works. You can follow along with all of my WPIAL Conference previews here. Teams are listed in my projected order of finish.
Rochester
After missing the playoffs for three seasons, the Rams returned to form in 2016. Prior to their brief drought, Rochester had made 16 straight playoff appearances. They played in 9 Championship Games (winning 5) and reached the semifinals 12 times. They made it back to the semifinals last season where they fell to Jeannette 30-20. The Rams swept through their regular season schedule, averaging over 38 points per game and holding opponents to just 12. They graduated a dual-threat quarterback but return a number of starters. Senior Caleb Collins led the team in receiving with 360 yards last season and was second in rushing with 798 yards and scored 17 total TDs. Tight end Elijah Goosby (273 yards, 4 TDs) and 6'3″ receiver Mahlik Strozier (255 yards, 5 TDs) both return for their senior seasons. If Rochester can get solid quarterback play, the Rams will be a threat to win the conference and go deep in the playoffs once again.
OLSH
The Chargers were one of the biggest surprises in the WPIAL last season, reaching the playoffs for the first time in school history. They fell to Imani Christian in the first round, but that does not detract from their 7-2 regular season, the most wins ever by their program. Quarterback Tyler Bradley threw for 2040 yards and 20 TDs last year as a sophomore. His leading receivers have all graduated but second-leading rusher Austin Wigley (624 yards, 12 TDs) returns. If the Chargers can find replacements on the outside at wide receiver and tighten up a defense that allowed 21 points per game last season, they have a shot to challenge for the conference title.
Northgate
The Flames had the third-best offense and defense in 1A last season, averaging over 41 points per game and holding opponents under 10. The lone blemish on their regular season was a last-minute loss to Rochester. They dominated the first two rounds of the playoffs before falling to eventual WPIAL Champion Clairton in the semifinals. Last year was Northgate's second playoff appearance in the last 13 years and their first trip to the semifinals since 1984. Leading rusher Surron Adams (1125 yards, 24 TDs) returns for his senior season. Northgate graduated 11 seniors from last year's team but should be able to compete with Rochester once again for the conference crown.
Sto-Rox
After spending two years in AA due to a miscalculation of enrollment figures, Sto-Rox returned to the smallest classification last season and returned to the playoffs. Last year was a season of streaks. The Vikings won their first 3 games, lost 3, then won 3 more before losing the regular season finale and their first round playoff game. Sophomore Eric Wilson split time at quarterback last season and threw for 636 yards and 6 TDs. Leading receiver Amir Austin (490 yards, 7 TDs) returns for his junior year and leading rusher Davonte Williams (294 yards, 5 TDs) will be a senior. The Vikings will need to improve their ratios this season after allowing more points than they scored last season. Their defense gave up over 25 points per game.
Shenango
The Wildcats made the playoffs for the third straight season but fell in the first round to Jeannette. This was quite the accomplishment after Shenango started the year 0-4. They rebounded to win 4 of their last 5 regular season games and beat Union by 1 point in the season finale to earn a playoff spot. Senior Maxwell Reamer threw for 977 yards and 10 TDs last season. Two of their top three rushers in Braden Smiley (539 yards, 5 TDs) and Josh Young (362 yards, 3 TDs) return for their senior seasons. Fellow rising senior Matt McMillen was the second-leading receiver with 213 yards and 3 TDs. If the Wildcats want to their senior-laden roster to challenge for the conference title they will need to get out of the gate faster than last season and improve on a defense that allowed over 30 points per game.
Western Beaver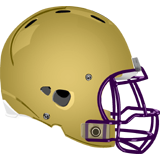 The Golden Beavers have made the playoffs just once in the last five seasons. In 2016 they improved from an 0-9 campaign to finish 4-6. Western Beaver won their first 3 outings and looked like they were on the path to the playoffs but lost their next 5 and 6 of their last 7. The only victory in that span came against a non-conference opponent which did nothing to help their playoff chances. Do-it-all quarterback Jeddy Young returns for his senior season. Last year Young led the team in passing (330 yards, 3 TDs), rushing (434 yards), receptions (18, for 66 yards) and scoring (9 total TDs). Leading receiver and third-leading rusher Louie Hapach (337 all purpose yards, 1 TD) also returns. Western Beaver will have to find a way to put more points on the board after finishing with the second-worst offense in the conference, averaging under 16 points per game.
Union
The Scotties lost their first 3 games but bounced back to win 3 of their next 4 to put themselves in position to challenge for the playoffs. Unfortunately, they lost their last three games including a heartbreaking 1-point defeat by Shenango in a casket match in the season finale. The Scotties opted to go for 2 after scoring a touchdown in the waning moments of the game but came up just short of the end zone. Sophomore Tyler Benedict and Senior Evan Pinkerton split time at quarterback last season. Leading rusher Tre'von Charles returns for his senior season after scoring 12 times last year.
Cornell
After the 2011 season, Cornell opted to end their football program and enter into a cooperative agreement with Quaker Valley. Cornell had reached the playoffs the prior two seasons and players from Cornell helped Quaker Valley to earn their first home playoff game in school history in 2013. When the PIAA moved to 6 classifications, the cooperative agreement between the schools ended and Cornell decided to re-start their football program. Last year's team featured a number of young players who had never seen significant playing time. The Raiders went 0-9 with the worst offense in the entire WPIAL, averaging under 3 points per game. They were shut out in all but 2 of their games. Three freshmen split time at quarterback last season with Zaier Harrison (455 yards, 4 TDs) being the most successful but Eric Olexa and Blaine Sams also seeing time. Leading receivers Stefan Blackson (238 yards) and Nahdama Luster (177 yards) along with leading rusher Gerard Rippy all return.
Summit Academy
It is nearly impossible to predict Summit Academy's success from year to year. The school for court-adjudicated youth sees nearly its entire roster turn over each season. They have made one playoff appearance in school history (in 2013). Last year, Summit went 3-6 with wins over Cornell, Union, and Avella. Without knowing any players that will be on the field for the Knights, it is very difficult to project how much or little success they will have in 2017.