This decade has seen a proliferation of offensive talent across the WPIAL. Passing games have expanded in scope and frequency. Dual-threat quarterbacks have emerged as offensive powerhouses. Prior to this decade, no player in WPIAL history had ever run for 1000 yards and thrown for 1000 yards in the same regular season. The feat was first accomplished in 2013 by two players and repeated 10 additional times throughout the decade.
It is important to note that additional players qualified for the 1000/1000 Club once playoff statistics were added in, but for purposes of this article we are only looking at players who accomplished the feat during the regular season. It is also worth noting that players prior to 2016 only had 9  regular season games to rack up statistics. After the move to six classifications in 2016, optional Week 0 games were added to the schedule with statistics from those games counting towards the full season totals. Here is a look at the 11 players who are members of the elite 1000 passing yards and 1000 rushing yards club.
Nico Law (Ringgold, 2013)
Regular Season Stats: 1353 passing yards, 14 TDs; 1116 rushing yards, 13 TDs
Total Season Stats: 1494 passing yards, 14 TDs; 1210 rushing yards, 14 TDs
Ringgold's 2013 season started with a loss to Thomas Jefferson, but the Rams bounced back to win 7 of their next 8 games. The Rams made the playoffs but fell in the first round to Indiana 28-14. Nico Law had split time at quarterback as a sophomore but took over full-time in 2013 as a junior and was the catalyst of Ringgold's offense. Law became the first player in WPIAL history to surpass the 1000 / 1000 mark. The following year as a senior Law led Ringgold to the semifinals but did not repeat his statistical feat. He surpassed 1000 passing yards but came up short in the rushing department as Chacar Berry took on a leading role in the ground game.
Zac Quatrone (Serra Catholic, 2013)
Regular Season Stats: 1011 passing yards, 5 TDs; 1047 rushing yards, 15 TDs
Serra Catholic went 0-9 in 2013 but Zac Quatrone's stellar season was the sole highlight. Serra entered the 2013 season riding an 11-game losing streak and would not win a game until Week 9 of 2014. On the field, their streak ended at 28szxad games though they were credited with a forfeit victory during the 2013 season because Imani Christian folded their team and forfeit the entire year. Like Ringgold's Nico Law, Quatrone was also a junior when he joined the 1000/1000 club. It took him until the final week of the regular season with a monster game against Bishop Canevin. Despite the Eagles losing 42-19, Quatrone was 18 of 30 passing for 227 yards and 1 TD and running 28 times for 153 yards and 2 TDs. Those yardage totals vaulted his season stats for both passing and rushing into the quadruple-digits.
Darius Wise (Beaver, 2015)
Regular Season Stats: 1030 passing yards, 10 TDs; 1392 rushing yards, 23 TDs
Total Season Stats: 1145 passing yards, 11 TDs; 1522 rushing yards, 29 TDs
As a sophomore in 2014, Darius Wise was used mostly as a running back, running for 818 yards and adding 272 receiving yards and leading the Bobcats with 22 TDs. Wise was moved to quarterback in 2015 as a junior and excelled, leading Beaver to the quarterfinals where they fell to South Fayette. Wise surpassed 1000 rushing yards with a massive 335-yard 5-TD performance in a Week 7 victory over Laurel. He did not surpass the 1000 passing yard mark until a Week 9 victory over Ellwood City. In Wise's senior season, he was stellar on the ground, once again surpassing 1500 yards. But the Bobcats were so good on the ground he averaged just 9 pass attempts per game and came up about 150 passing yards short of 1000. Beaver was ranked as the #1 team in the state for part of that season, but missed the playoffs on a tiebreaker with Central Valley because only 3 teams from a conference could qualify for the WPIAL's 8-team 3A playoffs.
Phil Jurkovec (Pine-Richland, 2015)
Regular Season Stats: 1987 passing yards, 15 TDs; 1037 rushing yards, 10 TDs
Total Season Stats: 2368 passing yards, 20 TDs; 1172 rushing yards, 10 TDs
Jurkovec took the helm of the Pine-Richland offense as a sophomore in 2015, replacing Ben DiNucci who had led the Rams to a WPIAL title in 2014. His sensational sophomore campaign would springboard Jurkovec into being one of the top recruits in the state of Pennsylvania, eventually committing to Notre Dame. However, for as good as Jurkovec was as a player, leading Pine-Richland to the WPIAL and PIAA Championships as a senior, he only accomplished the 1000 / 1000 feat once during the regular season. Jurkovec surpassed the 1000-yard passing mark in Week 6 with a 253-yard, 2 TD performance against Seneca Valley (he also ran for 142 yards and another score). It took Jurkovec until the regular season finale against Peters Twp to join the 1000/1000 club as he ran for 98 yards and a TD (while throwing for 245 yards and 3 scores). Jurkovec's sophomore season came to an end in the semifinals with a 38-34 shootout loss to Penn-Trafford.
Ethan Maenza (North Allegheny, 2016)
Regular Season Stats: 1006 passing yards, 10 TDs; 1047 rushing yards, 20 TDs
Total Season Stats: 1077 passing yards, 10 TDs; 1142 rushing yards, 21 TDs
The move to six classifications in 2016 brought an extra game to the regular season schedule. Maenza was a senior in 2016 who ran and threw for over 800 yards the year before as a junior. After a slow 1-2 start to 2016, Maenza led the Tigers to an 8-2 record as the focal point of their offense. In North Allegheny's Week 9 victory over rival Pine-Richland, Maenza threw for 168 yards and 1 TD and ran for 132 yards and 5 TDs. Both of those totals were enough to get him over the threshold of 1000 passing and 1000 rushing yards. North Allegheny reached the 6A semifinals where they were upset by Seneca Valley on a blocked extra point that would have sent the game to overtime after the Tigers scored a touchdown on the final play of regulation.
Max Garda (Burrell, 2016)
Regular Season Stats: 1107 passing yards, 10 TDs; 1164 rushing yards, 10 TDs
Burrell did not make the playoffs in 2016, winning just 3 games and finishing 6th in the 3A Allegheny Conference. Garda, a second-year starter as a senior, had taken the helm of the offense in 2015 and led the Bucs to a 4-5 record after they went winless in 2014. In 2015, Garda threw for 950 yards and ran for 780. He bettered his numbers in both statistical categories his senior season. Garda surpassed the 1000 rushing yard mark in Week 8 against East Allegheny. The following week, he closed his high school career by throwing for 152 yards and rushing for 115 yards and a TD as Burrell beat Deer Lakes. That performance was enough to get him over 1000 passing yards on the season and join the 1000/1000 club.
Dawson Porter (Armstrong, 2017)
Regular Season Stats: 1239 passing yards, 17 TDs; 1015 rushing yards, 6 TDs
Armstrong's 2016 offense was built around their rushing game and WPIAL single-season record-setter Zane Dudek. With Dudek's graduation, Armstrong needed to retool their offensive approach. Senior QB Dawson Porter stepped into the starting role and led the Riverhawks to a 6-4 record, missing the playoffs by just one game. Like many of the other players on this list, Porter's monster Week 9 performance vaulted him into the 1000/1000 club. In a 56-25 victory over Kiski, Porter threw for 273 yards and 3 TDs and ran for 140 yards and two more scores.
Skyy Moore (Shady Side Academy, 2017 and 2018)
2017 Stats: 1184 passing yards, 11 TDs; 1321 rushing yards, 24 TDs
2018 Stats: 1275 passing yards, 16 TDs; 1049 rushing yards, 19 TDs

In 2017, Shady Side Academy was playing in 3A where only 8 teams made the playoffs. The Indians finished 3rd in the Allegheny Conference but lost the Wild Card tiebreaker to Beaver. One of the highlights of the season was junior QB Skyy Moore who took the helm of a team that went 0-9 in 2016 and averaged just 17 points per game. Moore, along with transfer WR Dino Tomlin, led the Indians to a 6-3 season and an offense that nearly doubled their previous output at 33 points per game. Moore joined the 1000/1000 club in Week 7 of 2017 when he ran for 199 yards and 2 TDs and threw for 158 yards and 3 scores in a win over Avonworth. In 2018 Shady Side moved down to 2A and immediately made a splash with a 56-36 victory over Steel Valley, who had been to the WPIAL final each of the last two seasons. The Indians stormed through the regular season with Moore surpassing the 1000-yard passing mark in Week 6 and the 1000-yard rushing mark in Week 8. By doing so, Moore became the only player in WPIAL history to pass and rush for 1000 yards twice in his career. Shady Side earned the top seed in the WPIAL playoffs but Moore suffered a season-ending ankle injury in the opening round and the Indians lost the next week to South Side Beaver. Skyy Moore went on to play Wide Receiver at Western Michigan and was named to the First Team All-MAC Offense in 2019 as a freshman.
Bailey Lincoski (Beth-Center, 2018)
Regular Season Stats: 1044 passing yards, 10 TDs, 1100 rushing yards, 17 TDs
In 2018 two players from Class 2A joined the 1000/1000 club. In addition to Shady Side Academy's Skyy Moore, Beth-Center's Bailey Lincoski also joined the club. The dual-threat senior QB had run for 903 yards and 12 TDs and thrown for 849 yards and 11 TDs during his junior season. In 2018, the Bulldogs exploded out of the gate, averaging 49 points per game in their first four victories. Beth-Center dropped 3 of their next 4 outings to put their playoff spot in question, but bounced back to win their last two (including a casket match against Frazier) to qualify for the playoffs for the 16th straight season. Lincoski surpassed the 1000-yard marks in both passing and rushing during their Week 9 Casket Match victory over Frazier when he ran for 191 yards and 3 TDs and threw for 56 yards and another score. Unfortunately, Beth-Center did not get a favorable draw and their offense was stifled by Steel Valley's defense in a 49-0 defeat in the first round.
Isaiah Price (Armstrong, 2018)
Regular Season Stats: 1,300+ passing yards, 9 TDs; 1011 rushing yards, 9 TDs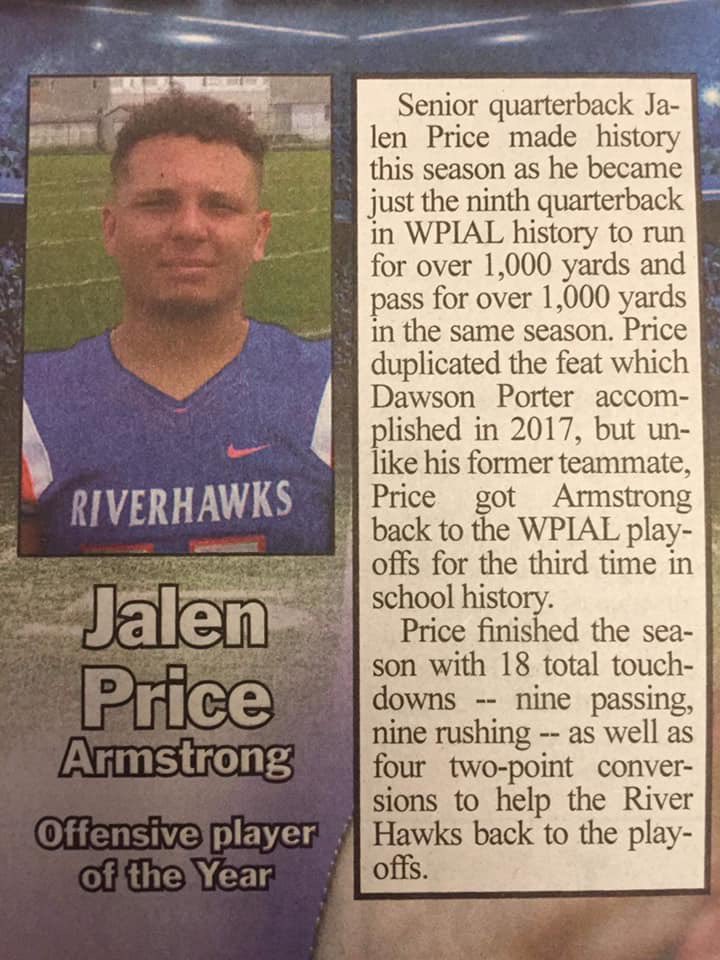 Since the merger of Ford City and Kittanning in 2015 to form Armstrong High School, their three playoff appearances have each been marked by an outstanding individual performance. In 2015 RB Zane Dudek broke the WPIAL regular season rushing record with 2019 yards. In 2017, the aforementioned Dawson Porter joined the 1000/1000 club to lead the Riverhawks to the playoffs. Jalen Price repeated that feat in 2018. Price threw for over 1300 yards on the season. His 117-yard rushing performance against Kiski in the season finale secured a 24-21 victory and got Armstrong to the playoffs.
Logan Shrubb (Keystone Oaks, 2019)
Regular Season Stats: 1590 passing yards, 14 TDs; 1231 rushing yards, 14 TDs
Like many of the other players on this list, Logan Shrubb had an outstanding regular season but did not get to show off his talents in the playoffs. Shrubb has started at quarterback since his freshman year when he threw for 1280 yards and 10 TDs. As a sophomore, he nearly joined the 1000/1000 club when he threw for 1532 yards and 14 TDs and ran for 956 yards and 10 scores. Last year as a junior, he improved on both totals but the Eagles still came up one game shy of the playoffs. After a 3-0 start, Keystone Oaks lost to South Park, which wound up being the deciding game for the final playoff spot in the Tri-County West Conference. Shrubb broke through into the 1000/1000 club with a massive performance in a 42-14 Week 7 victory over Deer Lakes. In the win, he threw for 181 yards and 2 TDs and ran for 331 yards and 3 TDs. With a similar performance next year, Logan Shrubb could join Skyy Moore as the only players in WPIAL history with two 1000/1000 seasons.