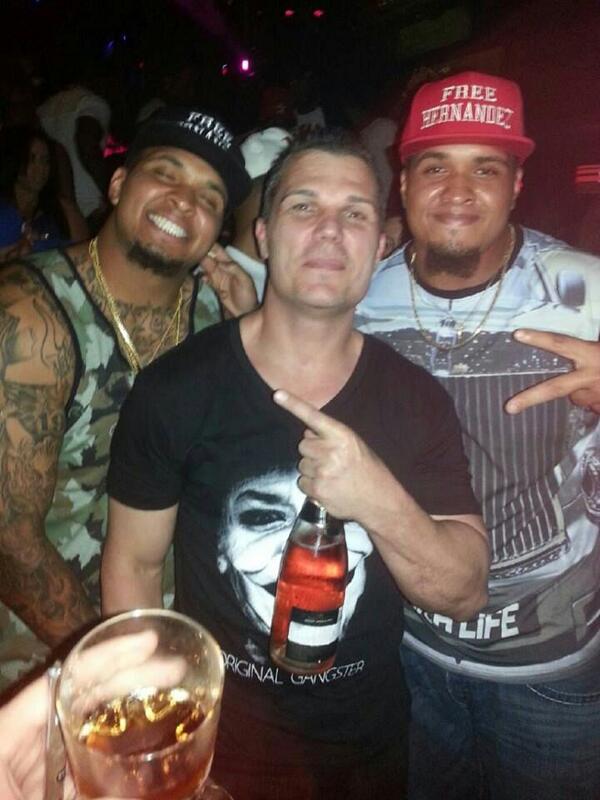 With training camp less than two weeks away, Pittsburgh Steelers' All-Pro Center Maurkice Pouncey and his brother Mike (of the Miami Dolphins) decided to get some R and R by blowing up social media with a photograph of themselves. In the photo, both are wearing hats that read, "Free Hernandez."
Both men were college teammates of Aaron Hernandez at Florida. Hernandez of course is in jail awaiting trial for a first-degree murder charge and both Pouncey brothers have been brought up in other Hernandez transgeressions while playing for the Gators. It appears they have done nothing wrong in that sense other than being in the wrong company.
I'm all for free speech. It's essentially why I went to college. I get it better than most and I have no prblem saying that. I back the Pouncey brothers 100% in their use of our first amendment rights but that doesn't mean I can't draw a line at their outright stupidity. Free speech protects not just the speech we like, but just as importantly it protects the speech we don't like. Mike and Maurkice Pouncey expressed that right and if you have read any social media this morning you'll realize the collective population on Twitter is throwing a serious penalty flag on both men.
What they have in effect done is prove the theory that we as fans should more now than ever root for teams rather than individual players. This single action reeks of ignorance and a total lack of understanding as well as maturity.
For all I know, Aaron Hernandez is innocent of the charges against him. That doesn't mean you flaunt your feelings one way or another in such a public manner without knowing there aren't going to be ramifications. Worse yet, the Pounceys were apparently appalled by the George Zimmerman verdict yet continue their support of Hernandez. It's a free country but that's a head-scratcher… Again, this is their right given by our Founding Fathers and I respect it. I have the right however to dislike their choice and I do.
Marc Uhlmann writes for and co-owns www.steelcityblitz.com. Follow him on Twitter @steeldad and follow the website at @SCBlitz. He can be heard Mondays on Trib-Live Radio at 4pm ET talking Steelers.