The Big Nine Conference was divided between some of the best and worst teams in 4A last season. Thomas Jefferson ran through the WPIAL season undefeated and won their second consecutive title. The Jaguars have had an unprecedented run of success over the last 19 years – they have reached at least the WPIAL semifinals in all but 1 season and won 6 Championships. In addition to TJ's success, the Big Nine Conference produced 3 of the 4 semifinalists in 4A last season. The only Big Nine team to lose their playoff opener was Belle Vernon who lost to fellow Big Nine opponent West Mifflin. On the other side of the coin, the three Fayette County schools (Laurel Highlands, Albert Gallatin, and Uniontown) were all dreadful. They were a combined 3-26 last season with their only wins coming against each other and all three allowed over 40 points per game.
If you're new to following WPIAL football this season, I wrote a primer on how it works. You can follow along with all of my WPIAL Conference previews here. Teams are listed in my projected order of finish.
Thomas Jefferson
The Jaguars have not lost a WPIAL game since Week 2 of 2015. They have won back-to-back WPIAL titles after winning the AAA title in 2015 and the 4A title last season. TJ annihilated WPIAL competition by averaging 46 points per game and only allowing 7, winning all of their contests by at least 21 points. Unfortunately, their 2016 season ended the same way 2015 did – a loss to Erie Cathedral Prep in the PIAA Quarterfinals. Second-leading rusher Justin Vigna (449 yards, 7 TDs) returns for his senior season as the Jaguars look to fill holes at the rest of their offensive skill positions. TJ should be stout defensively once again with two D1 talents on their line. Defensive end Noah Palmer and DT Devin Danielson have both committed to Pitt.
West Mifflin
The Titans were steamrolling along with a 7-0 record last season until RB Howie Reid broke his ankle. They lost 2 of their last 3 afterwards but still managed to make the playoffs and defeated Belle Vernon in the first round before falling to Thomas Jefferson in the semi-finals. Reid rushed for 876 yards and 16 TDs last season before his injury and returns for his senior season. Junior Matt Schuster figures to take over under center after throwing a handful of passes in clean-up duty last season. West Mifflin was very good defensively last season, as Ringgold and Thomas Jefferson were the only teams to top 21 points against them and they pitched 4 shutouts. With a fully healthy Reid, they should be in contention to compete for the conference title once again.
Ringgold
The Rams were loaded with senior talent last season and defeated Mars in a shootout in the first round of the playoffs before falling to New Castle in the semi-finals.They graduated 24 seniors but will have a number of players returning. Their top two rushers return in Brendan Small (822 yards, 12 TDs) and Tyrese Youngblood (350 yards, 4 TDs). Leading receiver TE Max Maciejewski (962 yards, 12 TDs) also returns for his senior season. If Ringgold can find a capable quarterback, they have the offensive weapons to compete for a playoff spot.
Belle Vernon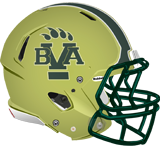 After a 6-0 start to 2016, the Leopards lost 3 of their last 4, including their first loss on their home gold turf. They were shut out by West Mifflin in the first round of the playoffs, their 7th one-and-done postseason in the last 8 years. Senior RB Derek Cesovski figures to be the focal point of the offense after being the third-leading rusher last season (246 yards, 1 TD). Senior WR Logan Pfongner was a big-play threat last season, averaging 11 yards per reception and 17 yards per carry and scoring 5 times. Belle Vernon will use him all over the field and look for creative ways to get him the ball. The Leopards have become a factory for offensive line talent, with this year's team highlighted by Pitt-commit Blake Zubovic.
Greensburg Salem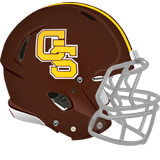 After a 1-5 start to the season, the Lions closed strong by winning their last 4 games. Unfortunately it wasn't enough and they missed the playoffs for the 5th straight season. Dual-threat QB Jacob Hoyle led the team in passing (731 yards), rushing (776 yards), and scoring (20 total TDs) last season and returns for his senior year. Greensburg Salem was the definition of average last year, scoring 270 points and allowing 269. Despite this, they did not play many close games. Only one of their wins was by fewer than 27 points and only one of their losses was by fewer than 14.
Trinity
The Hillers missed the playoffs for the fourth straight season. Trinity was not terrible defensively last season, but their offense could not keep pace. They failed to score more than 14 points in all but one of their losses. Leading rusher Joe Coroly ran for 1264 yards and 16 TDs last season and returns for his senior year. Two-way lineman Ben Phillis has committed to Akron and will help clear the way for Coroly.
Laurel Highlands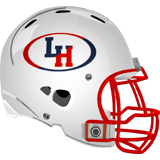 Of the three Fayette County schools, the Mustangs have been the most successful with 9 playoff appearances in the last 15 years. However, each of those 9 trips have been one-and-done. The lone highlight of last season was a 17-14 victory over Albert Gallatin in the final game of the season. That ended a 10 game losing streak and was only the second time all season they allowed fewer than 40 points. Junior Conner Basinger figures to take over at quarterback after seeing spot duty last season. Leading receivers Jacob Dukman (260 yards, 2 TDs) and TE Ian Edenfield (125 yards, 2 TDs) return for their senior seasons. Laurel Highlands needs to improve on both sides of the ball after a year where they averaged just 15 points per game and allowed over 42, the second-worst in 4A.
Albert Gallatin
A 1-8 season may not seem like much, but it was a big step forward for Albert Gallatin. The Colonials Week 8 victory over Uniontown snapped a 31-game losing streak that dated back to Week 4 in 2013. They nearly followed it up with another win but came up just short against Laurel Highlands. There is still a lot of work to be done for Albert Gallatin as they only scored more than 14 points once last season and held only one team under 42 points over the first 7 games. RB Trevon Oliver (844 yards, 3 TDs) returns for his senior season.
Uniontown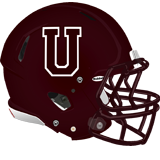 The Red Raiders have not been to the playoffs since 2007 and are coming off a 1-9 season where their only victory was a 27-10 defeat of Laurel Highlands. Unfortunately, they followed that victory by losing to rival Albert Gallatin. Those two games were the only time Uniontown scored over 20 points in a game and they were held to single-digits 7 times. Uniontown had the second-worst offense in 4A, averaging under 10 points per game while their porous defense allowed over 40.