Some noise has been made this week about the possible return of one of the NFL's dirtiest players, Cincinnati Bengals' linebacker Vontaze Burfict in their division match-up with the Steelers.
I'm not as concerned with Burfict (although, keep him away from Ben's knees if they both play) as I am a member of the Steelers' team, Mike Mitchell.
Mitchell has had a few dust-ups since joining the Steelers as a free agent from Carolina last year. The first came in the closing minutes of a game against the Jets last year, when Mitchell attempted to leap the line as the Jet's QB Michael Vick was kneeling on the ball to run out the clock.
Following the game, the Jets and center Nick Mangold in particular were extremely upset, and coach Mike Tomlin wasn't a fan either.
"Mike is an emotional guy and he's new to us, learning how we do business," Tomlin said, via the Pittsburgh Tribune-Review. "He came over and said something to me prior to that sequence on the sideline and, to be honest with you, I couldn't hear what he said. I just kind of acknowledged him, and nodded. I guess he assumed I gave him those instructions. … We don't want to play football like that."
Was the play dirty, as the Jets said? I don't think so. I'm not crazy about it, but give the guy credit for trying to win a game until the final whistle.
Earlier this season, some "dirty" talk came up again when Mike hit 49ers running back Carlos Hyde low on the following play, which could have really injured Hyde badly.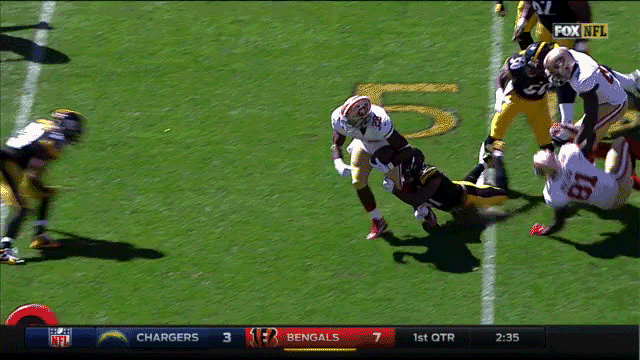 This, is getting closer to what I'd called a dirty play, but I'll give Mike the benefit of the doubt here that he's just trying to make a play.
The hit is very similar to the one that ended Le'Veon Bell's season last year when he was hit by Bengals safety Reggie Nelson. While some questioned it, I didn't think that hit was dirty either.
Following last year's wildcard game against the Ravens, a game in which Mitchell was flagged for a questionable unnecessary roughness call; "I don't know what they want us to do, man," he said, via the Pittsburgh Tribune-Review. "I am going to hit every single guy in the knee from here on out. I am getting tired of it. It's ridiculous. You can't change where you are aiming on a guy once you shot your shot. If you look at that play, the dude is trying to go down as the ball is coming. I can't re-aim my body. This is full speed, tackle football. I will hit everybody in the knee from here on out to avoid that."
He really may have decided he better just error on the side of going low rather than high at this point, and given the state of today's NFL I'm not sure you can blame him.
I think the above can be defended somewhat as I explained. The following, however, cannot be.
Last Sunday against the Chiefs, Mitchell appeared to hang onto and twist the ankle of Chiefs running back Charcandrick West when the play was obviously over. A Kansas City player would eventually be flagged for unsportsmanlike conduct for going after Mitchell, but I don't blame the guy for defending his teammate here.
You can see the play I'm talking about here.
I've seen some say that they like Mike Mitchell's "intensity" on the field. Personally, I find it annoying when Mike celebrates and beats his chest following a big hit… that comes on the end of a play that gains a first down for the opposing team.
Obviously, there's nothing wrong with that other than it causes some eye-rolling… but Mitchell is beginning to gain a reputation.
Hines Ward was often labeled a dirty player, but Hines Ward just played hard and with a mean streak in between the whistles and that rubbed defenders the wrong way.
James Harrison's been criticized and heavily fined for a lot of his hits, but when you see him makes plays like the one in the Cardinals game that caused receiver John Brown to fumble; you understand why he continues to lay some lumber on the field even if it means he might get fined.
I've never been one that wants or needs the team I support to be made up of a bunch of choir boys. It's an ugly and aggressive sport. I like that the Steelers play a physical brand of football.
Twisting ankles after the play is over is just uncalled for and flat out dirty, not physical or playing hard; and I think Mitchell should've been suspended for it. A guy that's going to do that after the play is not one I'll root for.
Here's to hoping Mike gets his head on straight, and starts representing the black and gold in a more positive light.